Jergen's Natural Glow Daily Moisturizer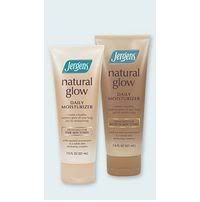 I bought this a couple weeks ago (the one for pale skin), after about five applications, there's a noticeable difference in my legs. I only applied it below my knees because I wanted to test it out, and usually the only skin I show on my lower half is below the knee anyways. Someone actually asked me yesterday if I've been tanning cause my legs looked tan. So I guess it works well. I definitely like this product, the scent isn't bad either. Normally self tanner smells pretty horrible. Also, because it develops so gradually, there is hardly any streaking.
Softsoap Vanilla Brown Sugar
Not really a beauty product, but I had to include this cause I was just thinking of it. I bought one of those soap pump dispensers and I fill it with dishwashing liquid and keep it in the bathroom. But it makes my hands really dry, and it's too soapy. I hate using bar soap to wash my hands, and I'm too cheap to buy the liquid hand soap, so when I was at the dollar store and saw Softsoap Vanilla Brown Sugar hand soap, I had to buy it. Also, I love the scent of Vanilla as long as it doesn't smell like hot chocolate. Well, this stuff actually smells like vanilla and tobacco. seriously. I thought it smelled like tobacoo, and I thought it was just me, but someone actually told me I smelled like cigarettes. (I quit smoking a few months ago, so they thought I started again). Anyways, for some weird reason I like the scent, but I don't think I'll be buying it again.
Philosophy 3-in-1 Waffle Cone shower gel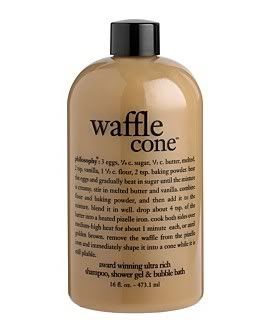 I LOVE the scent of this. It does not have that cheap fake smell like some other body washes. It seriously smells good enough to eat. It's $16 US at Sephora, and it's totally worth it. It's a 3-in-1 because it's a shampoo, soap, and shower gel. However, I don't really like using it as a shampoo because it makes my hair a bit dry, and it made my hair colour (my hair's coloured) a little bit brassy. If you see it in the store, you must buy it. You will smell delicious enough to eat.
MAC brush cleanser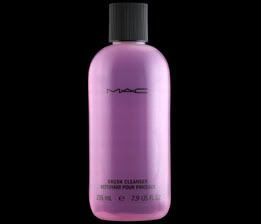 I'm pretty cheap, I used to wash my makeup brushes with shampoo and thought it was good enough. Well, a couple years ago I splurged and bought this and I couldn't believe how well it worked. I put a little in a plastic cup and add a little water, and just push my brush around in there and all this makeup comes off even though my brushes look clean. This product is very easy to use, it disinfects and conditions your brushes, and it's safe for use on high quality brushes. This is well worth the splurge, it's $11, and it lasts a long time. I actually keep a couple bottles of these. My skin breaks out easily, so I try to wash my brushes regularly. I've seen makeup artists put some in a spritzer bottle mixed with water, and spray their brushes after each use. I haven't tried this yet, but thinking of doing this to keep my brushes clean.