Did you know they're making a Canadian version of
Deal or No Deal
? There's some
awesome Canadian game show hosts
but I can't think of any good game shows filmed in Canada, if they follow the same format and set, maybe it'll be just as successful, although I'm shuddering thinking about the show Canada's Next Top Model that was on a few months ago..
Anyways,
Deal or No Deal
is looking for some suitcase wielding models, and if you can stand for like an hour in one place with a huge smile and make witty banter with Howie, they're auditioning across Canada starting tomorrow. Apparently natural charisma, wit, warmth and enthusiasm are a must. Translation: HOT. Here's some
info
: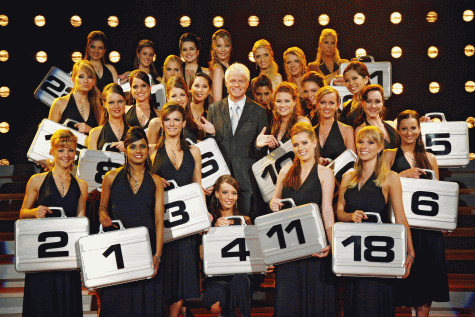 DRESS CODE: Come dressed to impress the judges. A cocktail/party dress, or a skirt and sweater or blouse - whatever you feel presents you at your best. Pants are not acceptable, and dress shoes with heels are a must!
Hey, why does it have to be a woman? I wouldn't mind seeing some guys holding onto the suitcases instead.
DATE AND LOCATIONS
**Please be sure to check back at globaltv.com closer to your city's casting date to confirm time and location.
Vancouver:
Wednesday, January 3, 2007 at the Hyatt Regency Vancouver located at 655 Burrard Street, Vancouver
Calgary:
Friday, January 5, 2007 at the Sheraton Suites Calgary Eau Claire located at 255 Barclay Parade SW, Calgary
Winnipeg:
Sunday, January 7, 2007 at The Fairmont Winnipeg located at 2 Lombard Place, Winnipeg
Montreal:
Tuesday, January 9, 2007 at the Hotel Omni Mont-Royal located at 1050 Sherbrooke Street West, Montreal
Toronto:
Friday, January 12, 2007 at The Royal York Fairmont Hotel at 100 Front St. W. Hopefuls will not be allowed to line-up outside the venue before 6:30am. Doors will open at 8 am, and close at Noon. Each contestant is allowed only one supporter.
**Those women selected to appear on the program will not be notified at the casting - they will be notified by producers at a later date.
**Due to the time constaints of a one day casting call, attendance does not guarantee an audition.