I actually went Boxing Day shopping on the 27th.. On the 26th, I was snug as a bug in my bed watching more movies.
The Coach store on Burrard (755 Burrard Street) is having like one of the best handbag sales I've ever been to in Vancouver. Tons of purses are marked down to $59. And a whole lot of them are 50% off. The sale was on Boxing day and the 27th, and apparently on the 28th and 29th as well. The salespeople said they will be REPLENISHING THE STOCK. All the goods on sale are on the right of the store. So don't even bother looking on the left part of the store.
I don't even like Coach. But my friend and I were walking down Burrard on our way to HMV and saw a big-ass lineup in front of Coach.
We heard about the sale the day before, but didn't know stuff would still be on sale after Boxing Day. We decided to wait. This was 2pm. At 3pm we got in. The lineup to pay inside was looped all around the store like a kids train track set. If you even strayed an inch from the line, one of the sales associates would correct your position.. It was another 1.5 hour wait. We browsed for about 30 minutes. I picked up three Coach bags, at $59 each. Which is nothing. I saw people with about 15. The limit is three per style. Some of the wallets were 50% off, some scarves were $19, shoes were $29. The regular price for my bags were $338 each. My friend bought three.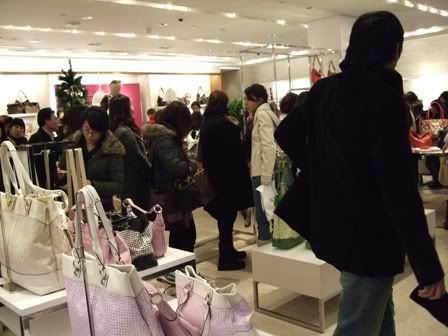 And while you're in line, the salespeople bring out more purses from the back for your consideration, so be friendly with a salesperson when you walk in. I saw tons of people standing in line with several purses, but while they're slowly moving through the line to pay, they have second thoughts and put the purse on a nearby table, or hand it back to the salespeople, so keep an eye out for these too.
I took some pics which I will post later.
I went to a few other stores. Lululemon, Future Shop, Winner's, B2, Aldo, Aritizia, Mexx, TNA, Banana Republic. The sales were no good, in fact, they were kind of a joke. Perhaps they only had their good stuff on the 26th, which I somehow doubt.
I would recommend you check out the Coach store. Even though the stuff on clearance is last year's fashions, it really doesn't look like it. There's some really good staples, and excellent for a gifting.
One thing I need to remark is how polite all the customers were in the store to each other, I didn't experience any pushing or shoving, nor was there any grabbing. I heard the day before, there were a few catfights. I did see a few customers YELL at the sales staff. ohh, what was annoying was that the cashiers didn't remove the security tags, so every store we went into after that, we would sound the alarm as we walked in and left. We were a public nuisance.
I'm now listening to Amanda Seyfried from the Mamma Mia soundtrack. Something about her voice is very soothing.