I haven't posted in awhile, nor have I had a chance to read this. I have been so busy with my friend's destination wedding in Hawaii. Then after the wedding, two friends that are now living in Japan came to visit and stayed with me for a month!! Not that I'm complaining of course!
I just got back from Vegas and have some hints for anyone planning to go to Vegas.
I was able to fly roundtrip including taxes for just under $300. Here's what I did:
Booked my ticket from
Allegiant
. I checked this site everyday and I notice the prices often drop but sometimes only for a day, and it helps to book about a month in advance. Bellingham to Las Vegas was $28, and the return was $88. As the date neared, the prices shot up to $288 each way. The parking charges at Bellingham airport is about $6/day. I believe my total charge for four days was $28 or $24.. can't remember now. You have to pay extra to pre-select your seat, and to check any luggage. But really, if you get there early, you'll have no problems sitting with your travel partner. Also, for a short trip to Vegas, you really only need a carry-on. The only thing is, you can't bring any liquids. If you do a lot of shopping while you're there you can check luggage for $25. If you pre-pay this option when booking your ticket it is $15 per way.
Warning, I have flown with Allegiant four times, and twice, they were considerably late. I talked to a fellow passenger on my recent flight, and she told me once they left EARLIER than the stated time. That's why you need to be there 2.5 hours early to check in cause they might decide to leave earlier. It really is a no frills airline. No music, pillow, blanket, drinks, you need to pay for everything. There is however, a mint at the end as you're getting off the plane..
The airport is very easy to get to from the I-5. It is about 20 minutes from the border, but when I went last week, we were stuck at the border for 2.5 hours waiting to cross at the Pacific Crossing. This crossing is almost always a shorter wait than the Peace Arch. If you want to be an asshole, you can always go to the duty free and buy a bottle of water, so you can butt into the line by going out the parking lot which i do not recommend, but it's a free country.. But warning, sometimes it takes longer to go through the duty free which is what I have heard, cause so many people do it, and then no one lets you cut in. So i would highly recommend not doing this, and if you're lining up without going through duty free, don't let anyone in that tries to butt in.. :)
You may even want to go a day early and spend a night in Bellingham cause twice I was at the border and they SHUT IT DOWN cause of some incident. So you're basically shit out of luck if this happens.
Hotel
Checked this website for hotel prices other people were getting www.cheapovegas.com as well as Biddingfortravel, which is where people post what they're getting through Priceline. My buddy actually works for a hotel, so we got a smoking deal on a very nice hotel on the strip. Normally though, I would just check expedia for ballpark figures, then check with the hotel websites directly. My favorite hotel there for reasonable prices is the Paris. and I tried the $20 trick there and it did NOT work.
Even if you smoke, you should request a non-smoking room. The smoking rooms in Vegas usually have such a strong smell, it's like sitting in an ashtray..
Food and Misc
Definitely sign up for the player's clubs at the casinos, for people that sign up for the first time, you often get a funbook, which is basically a coupon book. At Planet Hollywood right now, you get $5 for slots, an extra $15 if you play $40 as well as a funbook that includes a $25 matchplay for table games. It also includes coupons for their restaurants including their spice market buffet. So the $17.99 lunch buffet is only $12.99! The Rio offers a free t-shirt.. probably size x-large..
If you want to have a nice dinner, but have a budget, have a nice late lunch instead. I would really recommend sitting out on the patio at Mon Ami Gabi which is in the Paris Hotel. It's right across from the Bellagio fountains, so try to go about three pm, so you can watch the fountain show while you eat. (The fountains don't start till 3pm and run every 30 minutes). In the evening the fountain show is every 15 minutes.
View from Mon Ami Gabi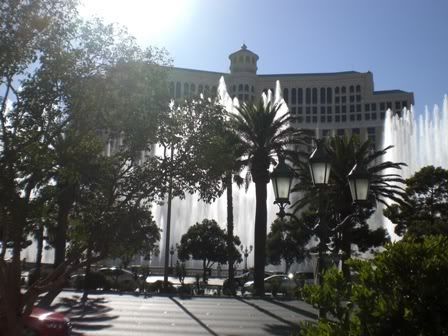 The Paris buffet is also very good. It's 24.99 for dinner which is not bad.
If you are looking for good food that is served 24 hours, there is a restaurant in Planet Hollywood serving foods such as braised pork ribs and breakfasts 24 hours a day.
Transportation
From the airport, when taking a cab, it should run you about $15-17 including tip. Ask the cabdriver NOT to take the tunnel, cause that is the long way. A shuttle is about $6-$8.50, but if there's two of you, you may as well take a cab because a shuttle can take an hour to get to your hotel cause it has to keep stopping at each hotel.
The double decker bus that runs along the strip in Las Vegas, called
The Deuce
is very easy to take. You can buy a 24 hour all you can ride pass for $5. Make sure you have exact change though. When you board, you just put $5 in the billtaker and you get your pass. Very easy. Apparently you are not allowed suitcases or large bags on the bus so I wouldn't take this option from the airport.
If there's over four of you, consider taking a limo.
There's also the
Monorail
Entertainment
I highly recommend checking out a show while you're in Vegas. Besides the free shows such as the beautiful fountain show at Bellagio (I'm such a sap, I get tears in my eyes because the combination of the music and the fabulous spectacle make me weepy) and seeing the lions at MGM if you don't mind seeing caged animals, try to take in a show. I really like Mystere, and nowadays, you can get discounted tickets for Mystere (Cirque de Soleil) if you look around. I also really like O which is a Cirque de Soleil show, part of the show takes place in a pool. I don't think O tickets are ever discounted, but it is truly worth every penny. There are some limited view seats which are 92.50 which are the cheapest.. The Blue Man Group is also a fun show especially if you're into music.
There are a couple TKTS booths in Vegas, one is in the fashion show mall by Treasure Island. You can get discounted tickets for shows and buffets here.
personally, I would avoid the Sirens show at Treasure Island.
Shopping
There is tons of shopping in Vegas. There is everything from outlet malls to high end stores like Manolo Blahnik (the only Manolo boutique in the US besides the one in New York). If you're like me and like bargain shopping, check out H&M in the Miracle Miles mall, in the Planet Hollywood funbook, there's a coupon to get another couopon book at the Miracle Miles mall, that coupon book includes a coupon for $10 off a $50 purchase at H&M. There's also an Urban Outfitters at this mall, but there's one in Vancouver, so not really a big deal. There's a Bettie Page store in this mall, the dresses are so much fun. Definitely check it out. If you make your way to Fashion Show Mall, there's a Forever 21 there if you want to pick up some trendy clubbing clothes.. If you go to the Palazzo shops next to the Venetian, you can check out the Christian Louboutin store!
Liquor exemption
If you are not checking luggage, but want to take advantage of the liquor exemption you're allowed, there's a 24 hours wal-mart right by the Bellingham airport, so you can stop by there before you head back home to Vancouver. They have champagne, wine and beer there. If you are checking luggage, buy a bottle of hard liquor in Vegas. At the ABC store in the miracle mile shops, they sell Grey Goose vodka for $30 which is normally about $50 here (it could actually be 47.99 or $60.. can't remember now). there's cheaper places to buy liquor, but the Miracle Mile shops next to Planet Hollywood is in a pretty convenient location.